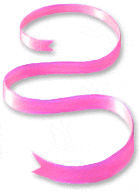 Satin and Grosgrain
Lengths from 3" to 62"
Choice of five cut styles
Angle Cut
Straight Cut
Straight Angle Cut
Reverse Angle Cut
V Cut
Note: We do allow fractions of inches to be hot cut. If you want a cut using fraction of inches, include a note in the 'hot cutting box' during checkout or call to place your order.
[]
[]
OR
Call Us Toll Free to Place Your Order Today!
(866) 827-6431
(You may include cutting instructions during check-out. Appropriate costs will be applied during processing.)
Ribbon ends are heat fused, which eliminates fraying.
Reverse Angle Cuts are ideal for tying bows. The tails are a mirror image for a professional finish.
V Cuts have a maximum length of 34", and the yield is slightly reduced as there is some waste making the cut.
Example: 100 yards cut into 1 yard strips yields approximately 90 pieces, not 100.
We will cut the ribbon you purchase or any ribbon that you send to us, as long as the ribbon does not contain wire and is not made from cotton.



Price per Cut Piece
Over 500 pieces of ribbon purchased
2 cents
Under 500 pieces of ribbon purchased
4 cents
Ribbon you send to us over 500 pieces
5 cents
Ribbon you send to us under 500 pieces
7 cents
$20 Minimum Required
All hot cut orders are final

Entire rolls of ribbon must be cut at one length and style. Partial rolls of ribbon cannot be cut.