Design Your Own Ribbon in Three Easy Steps
Pick the color of your custom ribbon using our Solid Colors. If you have a different color in mind than our stock colors, we can dye to match for an additional fee.
Decide the width of ribbon you would like to use (1/8" - 1 1/2") and calculate the width of each color used in your custom ribbon.
List each color and width from edge to edge. You may email your design to us at: ribbon@ribbonfactory.com or fax us at: (814) 827-4191. Now you are ready to place your order. Please allow 3-4 weeks for your custom ribbon to be completed and shipped.
*Designs are woven not printed
Examples
5/8" Ribbon
5/16" Geranium
5/16" Navy
1-1/2" Ribbon
5/16" Emerald
3/16" White
1/2" Navy
3/16" White
5/16" Emerald
7/8" Ribbon

1/8" Geranium
1/16" Pantone Pink
1/8" White

1/64" Lavender
1/64" White
1/32" Lavender
1/8" Purple
1/32" Lavender
1/64" White
1/64" Lavender
1/8" White
1/16" Pantone Pink
1/8" Geranium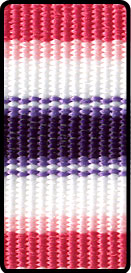 Pricing
There is a 1000 yard minimum order.
There are many variables in pricing. Please see our Large Volume Users page for a consultation.